"From childhood tales to grown-up trails, Rakhi memories never fail."
Have you made it your mission to provide your sibling with the finest personalised Rakhi gifts? We've heard from you, and we're prepared to comply. As August draws near, it is observed that all the sisters are growing more eager to celebrate Rakhi and, undoubtedly, to receive a surprise gift in return.
A brother and sister's relationship is a mixture of sweet and salt, with both love and arguments. Rakhi for Raksha Bandhan is celebrated to deepen their friendship.
Send your sibling a unique present this year to go above and beyond. We have collected the finest of the best under one roof, whether it is a personalised rakhi gift for sister or a Rakhi gift for brother. See our list of 10 personalized gifts that we are certain will make your brother ecstatic for Raksha Bandhan in 2023.
Strengthen Sibling Ties by Crafting a Raksha Bandhan Special Gift
Our siblings are the most significant component of our lives. Siblings play an important role in our lives. They hold a special place in our hearts. Siblings are the people with whom we share the most loved, foolish, and idiotic conversations. Even though you're old enough, when you're with your siblings, you go back in time to your youth. They are always there for us in good and terrible times. Our relationship grows stronger as we get older.
We are constantly looking for novel methods to demonstrate our love and thanks to them. As a result, selecting the greatest gifts on Raksha Bandhan for siblings provides us with the ideal opportunity to strengthen these wonderful bonds. Personalising a gift helps us to convey our feelings and share experiences.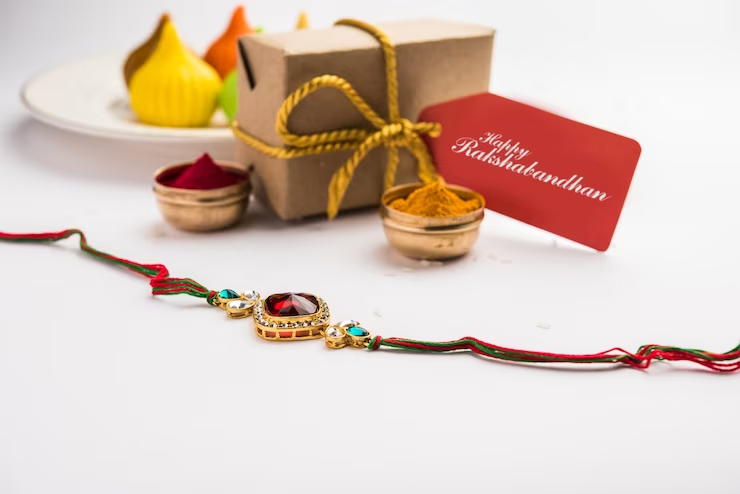 What makes Personalised Rakhi Gifts Special and Understand their Emotional Value?
Siblings frequently share a plethora of memories and experiences that influence their connection. A sibling's connection may be warm and caring, but it also contains equal parts compassion, frustration, and even rage. We confront every issue together, from playing together to providing encouragement to accomplish something significant in our lives.
Giving Raksha Bandhan special gift presents allows one to pause and reflect on these significant events. The present might be turned into a nostalgic memento of the siblings' bond and shared past. Raksha Bandhan thali decoration plays an integral role, as it is the key element that signifies its value.
Long-lasting and meaningful keepsakes for gifts on Raksha Bandhan:
Rakhi gifts for brothers and personalised rakhi gifts for sisters leave an indelible mark on our siblings' hearts. Personalised gifts have a personal value and are typically treasured for years to come. They serve as a reminder of the special bond between brothers and elicit sentiments of fondness and nostalgia whenever they are viewed or utilized.
Increasing the link between siblings:
Siblings are extremely significant in each other's lives since they give support, companionship, and a shared history. Personalised Rakhi gifts build this bond by promoting a sense of intimacy and understanding.
As beautifully said, "There's no other love like the love for a brother. There's no other love like the love from a brother" – Astrid Alauda
In the lines above, Astrid Aluada eloquently captures the kinship that siblings have. The happiest moment of our lives was when we were young, and on the occasion of Raksha Bandhan, we return to that time each year. It's all about the sentiments on this day, and it draws us closer to our siblings. All of you must be hunting for expensive presents or raksha bandhan special gifts for your siblings as this day is right around the corner. We will do what you ask for. So, we came up with trendy Rakhi gift ideas that are perfect! You no longer have to worry because everything is on our list. Take a look!
List of Top Personalised Rakhi Gifts for Sisters and Brothers:
1. Raksha Bandhan Mugs – Rakhi Wishes in Every Sip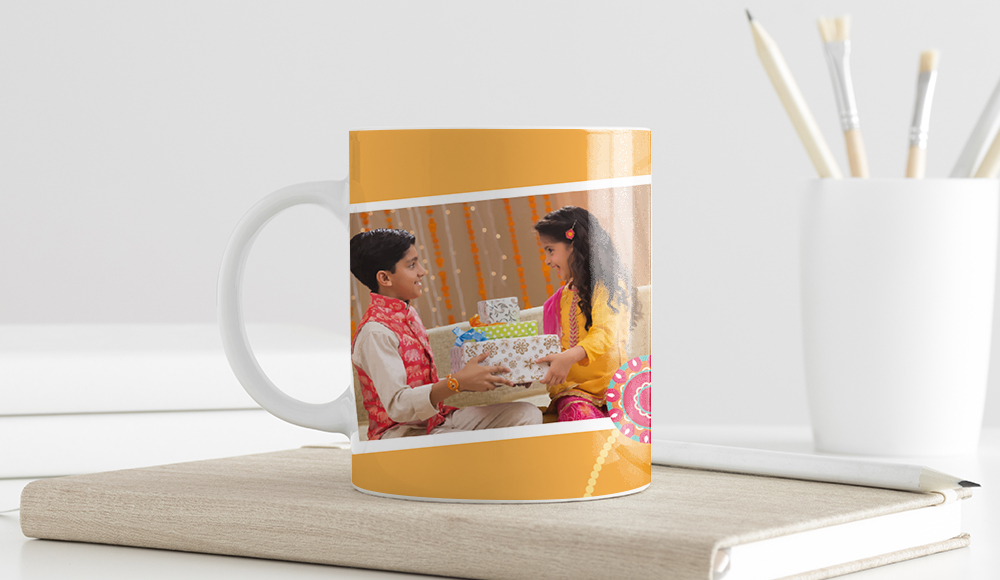 To add even more specialness to the celebration of your brother's rakhi, we have a fun variety of raksha bandhan mugs. Give it to him and watch the effect of love sparkle!
Celebrate the affectionate Rakhi bond with an unforgettable act that warms the mug and the heart. Sending a customised coffee mug to your sibling is the ideal combination of kindness and usefulness. Make their mornings more special by decorating them with a unique Rakhi greeting, a funny quip, or a treasured photo. Each sip of their preferred beverage will serve as a reminder of your love and the priceless moments you have shared.
Show your love with this customised raksha bandhan mug designs with your favorite memory on it. Consider a personalised coffee mug as an alternative to more conventional Rakhi gifts. It will serve as an actual symbol of your enduring bond.
"In the tapestry of life, the thread of Rakhi is a shimmering reminder of sibling love."
2. Raksha Bandhan T-shirt – Celebrate Sibling Love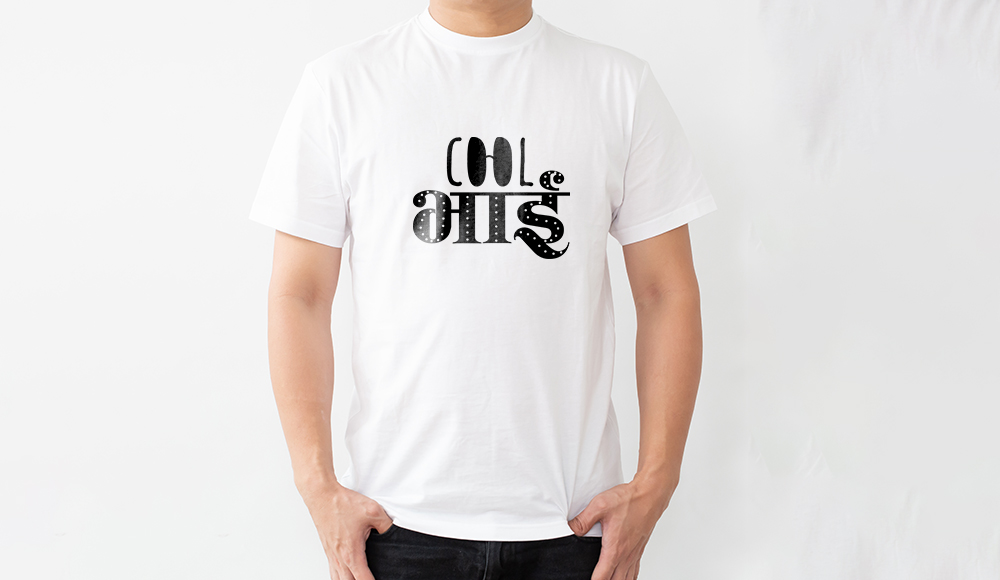 Why not think about giving your brother or sister an item of apparel this Raksha Bandhan if you're looking for a unique present?
Rakhi celebrations will be boosted with matching custom T-shirts! These T-shirt gifts on Raksha Bandhan represent the essence of your siblings' relationship with their unique designs and loving words. Wear one of these incredibly great customised T-shirts to celebrate the awesomeness of having a sister. The "Rockstar Brother & Sister T-shirts" from ARC India is the prettiest sibling set ever.
These custom-printed rakhi t-shirts make for priceless memories and are stylish. and heartfelt way to convey your connection. Wear your bond with pride and make enduring memories with this considerate action.
Sometimes being a brother is even better than being a superhero" – Marc Brown
3. Write your story in a Personalised Notebook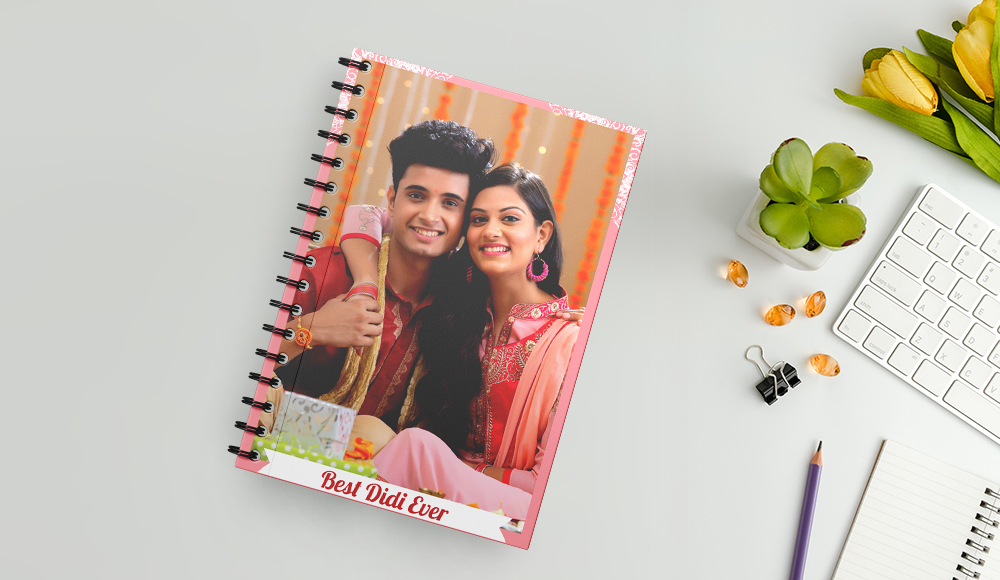 Personalised gifts for Raksha Bandhan inspire creativity and reflection by gifting a personalised notebook. If you think that your nerdy brother needs a custom notebook, gift him with his special Marvel character printed on it and emblazoned with their name or a cherished picture. It's a canvas for thoughts, dreams, and aspirations. Every page turned becomes a testament to your special bond.
Whether for jotting down memories or sketching future plans, this custom notebook is a meaningful gesture that lasts beyond the occasion. Let your sibling embark on a journey of self-expression and empowerment with every stroke of the pen. Celebrate Rakhi with a gift that nurtures their uniqueness and reflects your unwavering support.
4. Sip, Create, Repeat: Your Design on Custom Water Bottles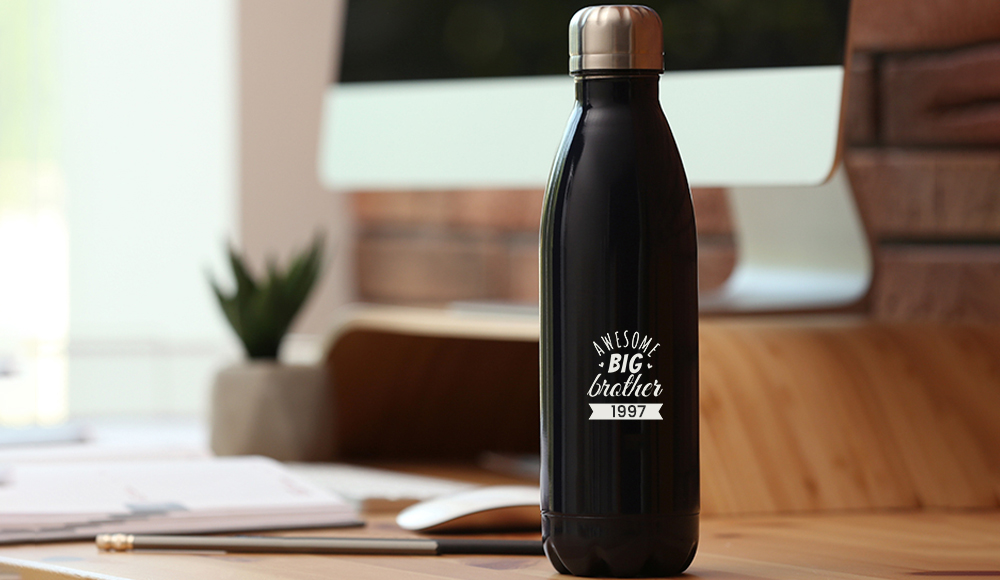 Quench your thirst for love this Rakhi with a custom printed water bottles. Gifts on Raksha Bandhan adorned with their name or a fond memory, this thoughtful gift combines style with utility. Every sip they take will be a reminder of your unbreakable bond. Beyond a mere bottle, it's a symbol of care, perfect for staying hydrated on the go.
Eco-friendly and unique, this personalised water bottles is a gesture that reflects your commitment to their well-being. This Rakhi, let your sibling sip in style and carry your affection wherever they wander.
5. Wooden Frame Gifts: Crafting Memories, Framing Love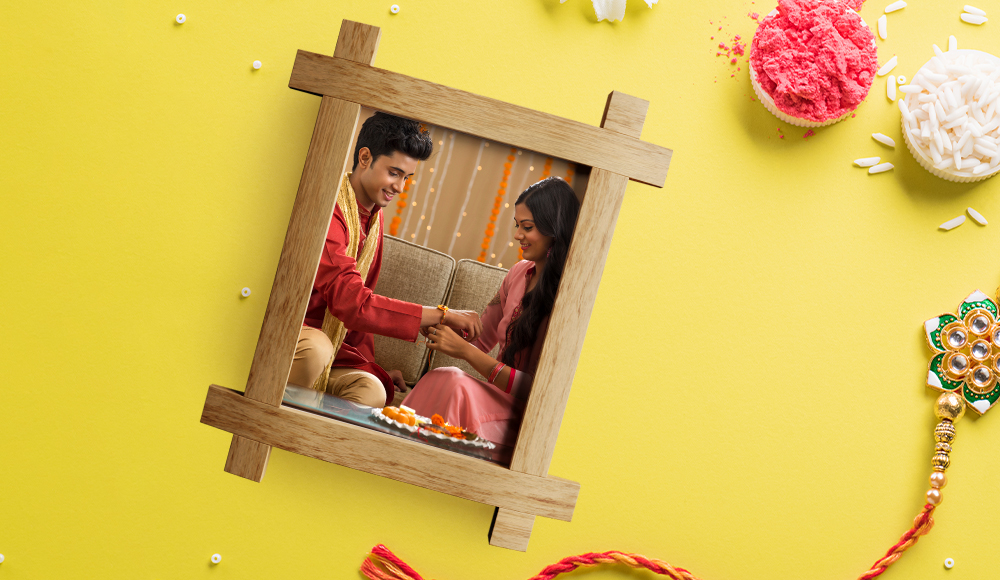 Capture the essence of Rakhi by gifting a personalised wooden collage photo frame. Engrave precious memories on this timeless canvas, a testament to your enduring bond. Every glance at the cherished photo will evoke smiles and nostalgia. This custom wooden frame gift is more than decor; it's a heartfelt connection between you and your sibling. A tangible reminder of shared moments and love that withstands time. Celebrate Rakhi with a gift that preserves your unique story in the beauty of wood, making every day a reminder of your unbreakable relationship.
6. Shielded in Style: Customized Mobile Covers just for you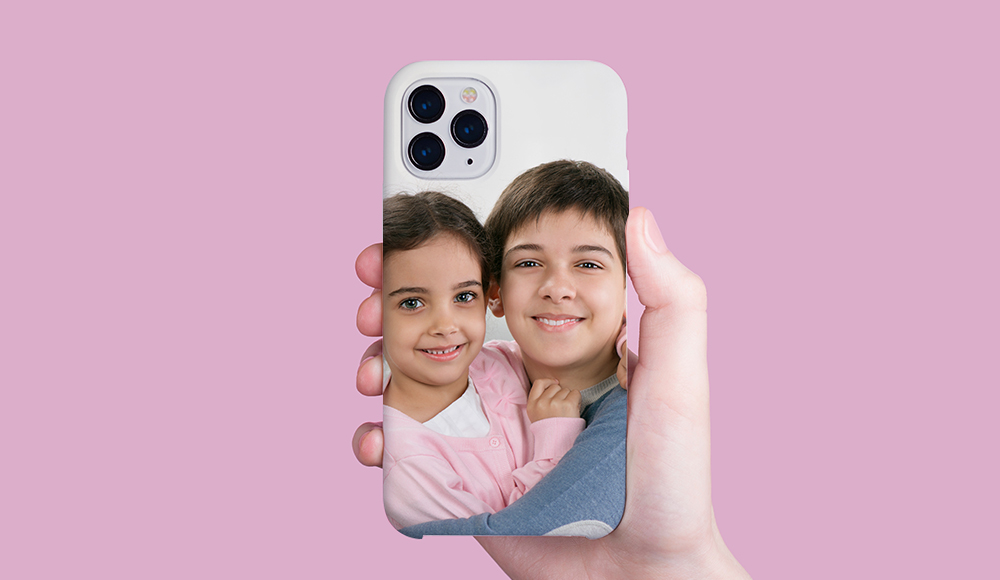 This Rakhi, wrap your love around them with a custom mobile cover printing. Adorned with a special picture or a meaningful quote, it's a constant reminder of your bond. This personalized mobile back cover printing not only protects their device but also carries your affection wherever they go. Phone cases make wonderful presents! They are distinctive, fashionable, and useful.
You can choose a mobile back cover printing online that precisely fits the person you are presenting it to because they come in so many different styles. Additionally, phone cases are a wonderful Raksha Bandhan gift. Make sure to browse ARC India online for a variety of mobile back cover printing options.
Everyone on your list is sure to receive the ideal phone case from you! Every call, text, or glance at their phone becomes a connection to your love. Practical and personal, this gift adds a touch of thoughtfulness to their everyday life. Celebrate Rakhi uniquely by giving them a custom mobile cover – a symbol of your closeness in the digital age.
"Rakhi is not just a thread, it's a symbol of the beautiful journey we've shared"
7. Celebrate Bonded Love with the Raksha Bandhan Posters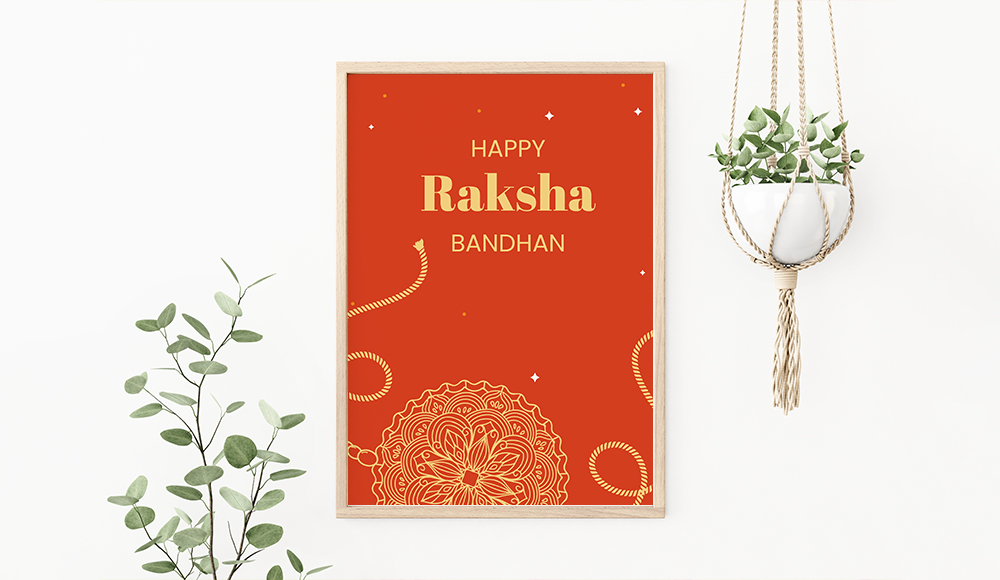 Illuminate your sibling's world with a personalised Raksha Bandhan creative poster. Enriched with shared memories or an inside joke, this custom masterpiece will adorn their space with love. Every glance will conjure laughter and warmth, reflecting on your irreplaceable bond. More than just décor, this poster encapsulates your unique relationship, celebrating the essence of Rakhi.
As they hang it up, they'll feel your presence and devotion. Gift them a custom Raksha Bandhan poster, an artistic embodiment of your connection that will brighten their days and remind them of the cherished moments you've shared.
8. Raksha Bandhan Banners: Strengthening Bonds, Celebrating Love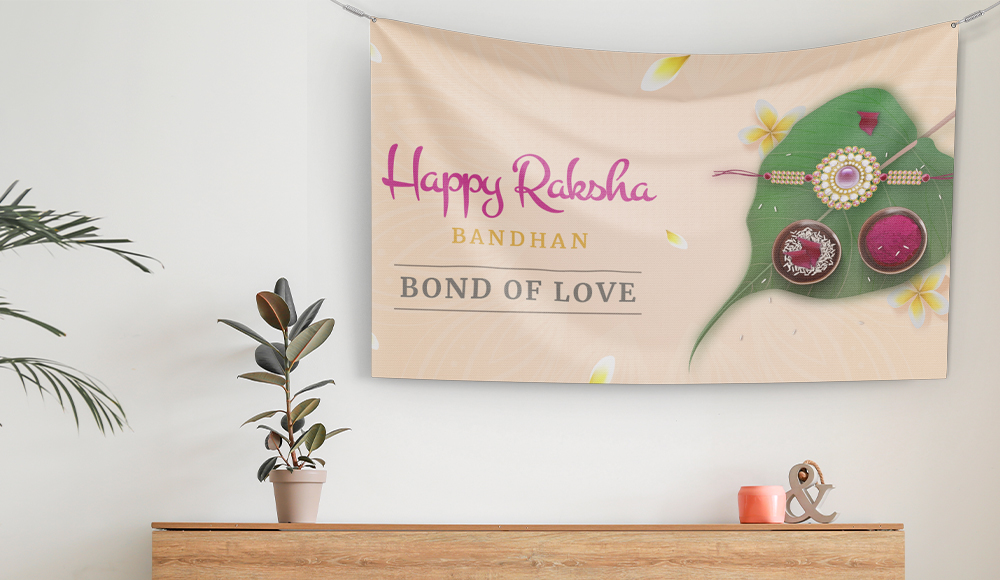 Liven up Rakhi festivities by sending personalised Raksha Bandhan banner design, a vibrant tribute to your sibling bond. Adorned with cherished photos or heartfelt messages, this custom banner adds a personal touch to the celebration. Whether hanging at home or during Rakhi gatherings, it's a declaration of your love. This banner not only decorates the space but also captures the spirit of your relationship.
Celebrate Rakhi uniquely with this expressive gesture, reminding your sibling that they're an integral part of your life's colorful tapestry. Embrace this joyous day with Raksha Bandhan banners that turn the occasion into a cherished memory.
9. A Gift Beyond Words: Personalized Pens for Inspired Gestures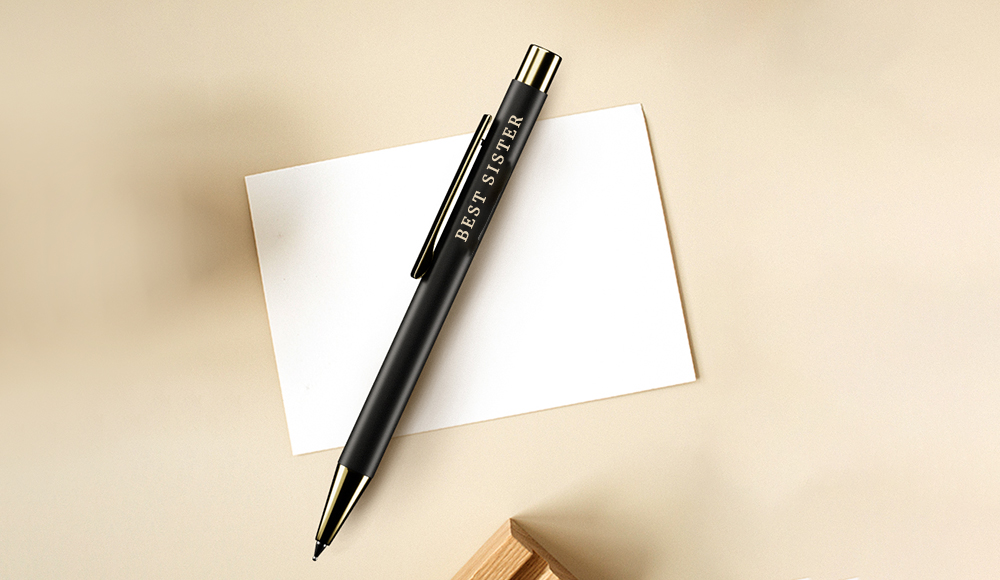 This Rakhi gives you the power of words with a personalized pen gifts. Engraved with their name or a heartfelt message, it's a symbol of your enduring connection. Beyond a writing tool, this custom pen embodies the essence of your bond.
Every stroke will carry your love and support, inspiring their journey ahead. Practical and meaningful, this gift blends utility with sentiment, making each signature a testament to your relationship. Celebrate Rakhi by presenting them with a customised name pen – a timeless expression of your affection and a reminder that you're always there, even in the words they write.
10. Custom Printed Cushion Covers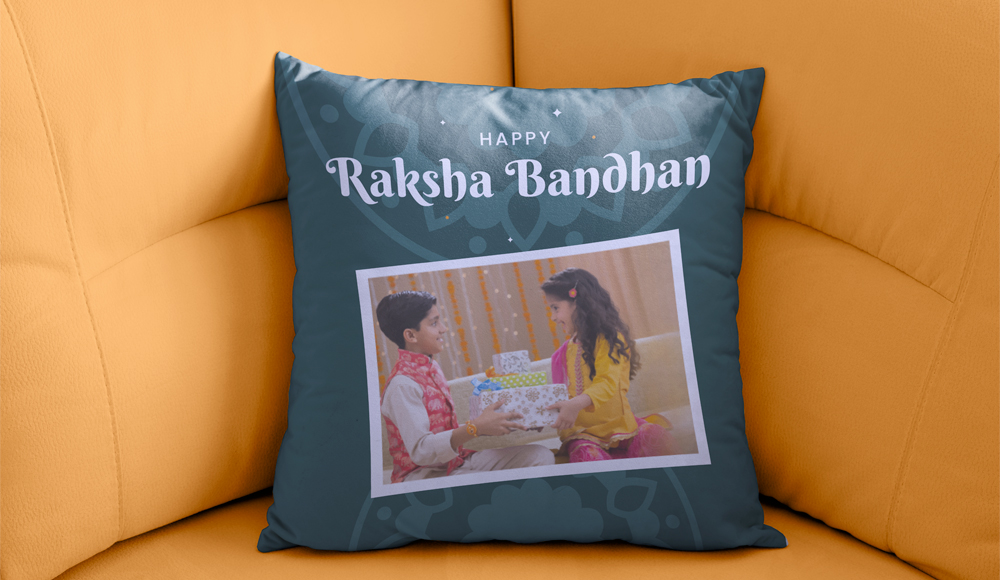 Elevate your Rakhi gifting experience with our exquisite custom printed cushion covers. This Raksha Bandhan, go beyond traditional gifts and surprise your beloved sibling with a thoughtful and personalised gesture. Our custom cushion covers are designed to encapsulate the essence of your bond, creating a lasting memory that they will cherish forever.
Each cushion cover is a canvas for your creativity, allowing you to infuse your unique touch into the design. Choose from a plethora of vibrant colors, intricate patterns, and heartwarming quotes that resonate with your sibling's personality. This Rakhi, break away from the ordinary and give your sibling personalised cushion gifts that are as extraordinary as your bond.
With our custom printed cushion covers, you're not just offering a present – you're offering a piece of your heart beautifully woven into a piece of art. Let this Raksha Bandhan be a celebration of love, memories, and the unbreakable connection you share, all embodied in the elegance of a personalised cushion cover.
Personalised Rakhi Gifts are an excellent way to establish bonds and demonstrate your concern for others. It is easy to optimize the effect of these presents by taking the time to select the proper item, create a meaningful message, and evaluate pricing and technology alternatives.
When paired with meaningful gestures, personalized presents may be a powerful tool for relationship building. Personalised presents, whether utilized in customer or family interactions, may create a lasting impact on the individuals who receive them. Finally, personalised presents are a fantastic approach to showing your appreciation for another individual while also strengthening connections.
Frequently asked questions
1. What types of Personalised Rakhi Gifts do you offer?
Answer: We offer a wide range of personalized Rakhi gifts, photo-printed Rakhi keychains, personalized Rakhi mugs, and custom-designed Rakhi greeting cards, Notebooks, and many more items that you can check it from our ARC India.
2. How can I Personalize a Rakhi Gift?
Answer: Personalizing your Rakhi gift is easy! Simply choose the product you like, and during the ordering process, you'll have the option to upload photos, add names, or include special messages. Our user-friendly design tools make it simple to create a unique and memorable gift.
3. How long does it take to receive my Personalised Rakhi Gift?
Answer: Our production times vary depending on the product you choose. Generally, personalised Rakhi gifts are ready to ship within 3 to 5 business days. Shipping times will also depend on your location and the shipping method you select during checkout.
4. Are there any guidelines for choosing the right photo for a Personalised Rakhi Gift?
Answer: To ensure the best results, choose high-resolution photos with good lighting. Images with clear details and sharpness will translate well into your personalised Rakhi gift. Avoid using images that are too dark or pixelated.
5. Can I include a Personalised message along with my Rakhi Gift?
Answer: Absolutely! Most of our personalized Rakhi gifts come with the option to add a custom message. Whether it's a heartfelt note or a playful message, adding a personal touch enhances the sentiment behind your gift.
With these Raksha Bandhan gift ideas, you're equipped to make this day extra special for the ones who have been your companions in this journey called life. As the threads are tied and the emotions flow, let your gifts convey the depth of your love and strengthen the beautiful bond you share. Happy Raksha Bandhan🎉👫!