As the pandemic Covid – 19 sweeps the world, classes are getting cancelled, exams getting rescheduled and employers are offering employees to work from home in order to maintain social distancing as much as possible. So, if you are stuck at home and are required to turn your domestic space into a home office, a few changes or additions to the space might be required. A complete makeover might not be required, just a little tweak here and there or making modifications to a few items in the space might be innovative and inviting.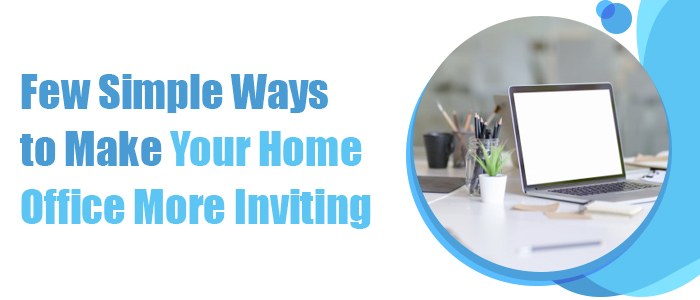 While you are trying to make modifications to the already existing style in your home office, most often people like to play with the colours and themes. A little change in the shade of the wall or an office backdrop design might often change the entire look of your space. Sometimes, if not completely changing, yet modifying a few furniture like adding in a new cabinet or using a wall hanger contrasting with the colours of your curtains can add in a new look to the boring space. At times, you can really choose your theme or a particular background colour keeping the weather outside in mind. For example, bright colours in spring, warm interiors in winter and cool shades of pastel or sky blue during the summers can often set the theme right for a real professional office space.
Let us take a look at a few design ideas that can turn your home to your professional workspace and give your office like feeling:
Using professional wall murals: this is not just about a good decoration idea but is also a great way to promote your brand. For example, the use of wall graphics with your corporate information will send a clear message to clients or stakeholders whenever you're meeting them over a web conference. It makes thing very professional while you are in quarantine and working from home.
Custom artwork: you can choose innovative custom artworks for your walls as a part of your home office design. This gives you the freedom to infuse some idea of your branding into your design. You can use some photographs or images that reflect your brand. Also, on a white wall you can get your brand logo painted having interesting fonts that will be a combination of original artwork and visual illustration at the same time.
Furniture that creates impression: furniture is often one of the first things that you notice when you enter a space, whether it is a residential or commercial space. Having conversational furniture can help you create the right impression for your workspace. Whether it is a big lamp standing tall at one corner of your desk or some fancy workspace accessories to style up your workstation, furniture or item or a decorative piece of artwork can create a comfortable space that will set up the right mood.
Experiment with the flooring: if your budget is on the higher side, you can choose a few unique flooring designs. The entrance acts as the reception area of an office and provides a great impact and visibility to your brand. You can go for different kind of floor graphics that will not only facilitate ease of installation but also can create various patterns for a more customized look.
Use accent colours to brighten up space: a dash of accent colours on the walls or on your furniture can complement your space and brand culture. It adds on to your personality and acts like a breath of fresh air in your workspace.
Add colours through furniture: adding useful colours through important furniture like chairs can transform your office space into an inviting and fun space. The vivid colours often compliment neutral backgrounds to a great deal. It also drives an upbeat professional atmosphere.
Create professional backdrops: this is extremely important especially for a home office since whenever there is a conference call with co-workers or important video call with a client, what people mostly get to see the background. Having your brand logo right behind your desk or using some abstract designs made of your brand colours as office backdrops will not just go an extra mile in creating an impression but will also give you the feeling that you are working in a professional office space.
Organize the office clutter: although there is a plethora of office design options available these days yet keeping your home office free of any clutter is the final touch of professionalism that you can add to your space. Also, neatness and an organized effort make it easy to find things and creates space that can be used more professionally.
These are tough days for most of us as are trying to balance work along with taking care of ourselves and our families. As you work from home for some time now, setting up an office space at your home can both be a daunting and exciting task. First you need to list down your motivation factors as far as the design and décor is concerned, then a little research can give you a great deal of options to set up the ideal office space. With so many office design options around, if you go for the right options, you will be able to successfully create your office at home.