COVID-19 has imprinted viral outbreaks on a global scale. No other pandemic disease has drawn such collective attention globally for a very long period. One of the major risks of the virus is that there are some carriers who do not show any symptoms but are equally contagious as the ones with symptoms. Symptoms may include dry cough, tiredness, fever, nasal congestion, sore throat, runny nose, body aches or diarrhea. People can get affected by COVID-19 from other people who are already affected or are carriers of the virus through contact with respiratory droplets from the nose or mouth which the affected person exhales sneezes or coughs.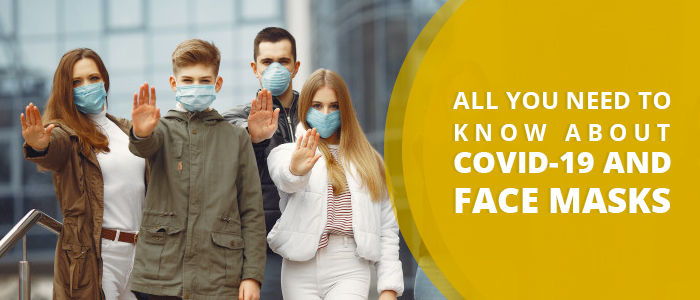 To reduce the chances of being affected or spreading COVID-19, one must follow these basic precautions:
Wash your hands regularly with alcohol-based sanitizers or with soap and water.
Maintain a minimum of 3 feet distance from anyone who is sneezing or coughing.
Avoid touching your nose, eyes, and mouth.
Maintain respiratory hygiene by covering your mouth when you cough or sneeze with tissues and dispose of them immediately after.
Seek medical attention immediately if you show any of the above-mentioned symptoms.
Stay up to date on COVID-19 hot-spots to avoid traveling to those areas.
When to use a face mask for COVID-19?
Wear a mask if you have a runny nose or if you are sneezing or coughing.
If you are healthy, wear face mask if you are taking care of any affected person or if you are going outside of your home.
Masks are only effective when combined with proper hand cleanliness hygiene.
Clean your mask frequently if it is re-usable or dispose the one-time usage masks immediately after using it.
How to wear Corona Virus mask?
Clean your hands properly before putting on a mask.
Place the mask properly in your face so that it covers both your nose and mouth.
Do not touch the mask while you are wearing it without cleaning your hands.
While removing the mask, remove it from behind and avoid touching the front of the mask.
In these unprecedented times, there has been a high demand of face masks leading to more demand than supplies. Due to shortage of supply of face masks, people are using DIY masks or covering their faces with scarfs or piece of cloth, but these are in no way an effective protection. To cater to the need of the people in this hour of crisis, ARC has come out with a one of a kind face mask to provide people protection against Corona Virus.
The key features of the face mask are as follows:
The face mask covers your entire face from forehead till the neck, thereby rendering complete protection from any touch.
It comes with an easy to use adjustable strap on behind your head, so that you can wear or remove the mask without having to touch the front of the mask.
Adjustable strap enables that the mask can be worn by people of any age group.
This re-usable mask is made of washable material which will enable you to clean it easily and maintain proper hygiene.
The mask also comes with a 1-inch cushion in the forehead taking into consideration the people who wear spectacles.
The cushion always acts a sweat absorbent thereby keeping you comfortable.
Who are we?
ARC is your one-stop printing material and documents solution provider more than 190 locations across the globe. We have a rich history of associating brands with buyers. We offer integrated print solutions that convey your brand message, transform customers into brand followers and drive sales. Following are the various services that we provide to our customers:
Office Backdrops – Helps you turn your home into a professional workspace.
Health & Wellness Posters – Posters depicting social distancing, facts about COVID-19 or proper sanitizing techniques are the call of the hour.
Print App – An integrated mobile application that helps you order your prints from your phone anytime anywhere.
Print Services – Incredible prints with dazzling colors that helps your brand communicate visually. ARC has a wide array of print solutions such as trade show booths, banners, floor and wall decals, construction signage, event displays and many more.
DIY Design & Print Tool – Enables you to add the personal touch to various gifting ideas.
Managed Print Services – Optimizes your print environment and reduces print costs up to 30%.
Scanning & Imaging – ARC enables transformation of paper documents into digital data that can be accessible from anywhere.
Printers, Scanners and Copiers – We have a wide range of equipment that can cater to all your office needs.
So, in this hour of crisis let us all pledge together to take all the necessary precautions to stop the outspread of corona virus across the globe. We must all focus on personal hygiene by washing our hands frequently & use face masks to protect ourselves and our loved ones from COVID-19.