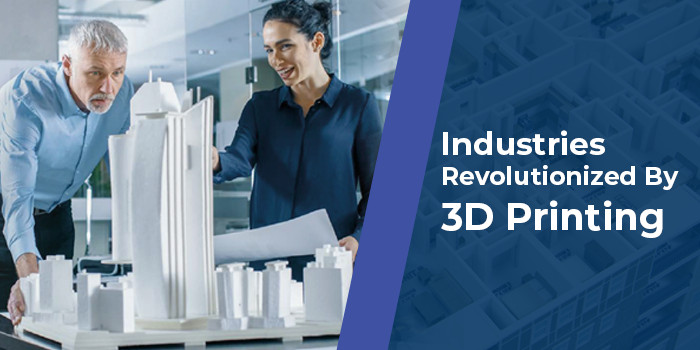 With the world of print evolving every day, 3D printing is a rapidly evolving technology. Additive manufacturing or 3D printing as it is widely known is the process of making three-dimensional objects digitally. The result of 3D printing is achieved through an additive process. In this process an object is created after layers of materials are laid down successively upon one another. Each of these layers is very thinly sliced horizontal sections of the actual object.
3D printing is the opposite of subtractive manufacturing wherein a piece of material is cut out with the help of milling or laser cutting machine. With the help of 3D printing, you can produce complex shapes with fewer materials than what is required in traditional printing or manufacturing.
Industries Revolutionized By 3D Printing
With 3D printing beginning to mature, this technology is changing the landscape for some key industries. Let us look at five industries that have been revolutionised by 3D printing:
Education: with every passing day, desktop 3D printing is becoming more popular in schools. It has gone a long way in bringing eager learners closer to the practical application of imparting high-tech information in different domains of science, architecture, maths, engineering and the like. 3D printing technology has gained recognition in the education industry at two levels – university and primary. This technology is used in different schools to inspire learners to be creative. With the help of 3-dimensional visuals, teachers are creating visual aids that help to explain difficult concepts which theoretically, are hard to understand.
Medical: the medical industry is known to be one of the most advanced industries in the way in which new treatment methods are developed. Thanks to all the technologies that drive this forward. One way in which this industry has enhanced is with the help of it. This new technology is used in the development of new surgical drills and prosthetics. It helps create customised replicas of bones, blood vessels and organs. With the help of recent advances in 3D printing, stronger, safer and lighter treatment procedures are created which has led to reduced time and lowered costs.
Manufacturing: while the manufacturing industry is always looking for new and innovative ways of functioning, It has been always on the forefront. Though traditional methods of manufacturing are notoriously expensive, It helps make manufacturing parts cheaper and accessible. Since the late seventies, companies have been using 3D printers in their design process for creating prototypes. This process is known as rapid prototyping. In this process, iterations are not just faster and cheaper, but it negates the necessity to use expensive moulds and tools. Apart from rapid prototyping, It is also used for rapid manufacturing. This is a new process wherein businesses make use of 3D printers for small batch custom manufacturing.
Aerospace and defence: this is an industry that is a great example of making the best use of 3D printing. The aerospace and defence sector has been using it for several years. Studies show that the market is expected to grow by 23 per cent and reach 4.76 billion dollars by 2023. The airline industry has been a driving force for the evolution of 3D print technology in the aerospace and defence sector. They depend on 3D printing for alleviating supply chain constraints, limiting warehouse space, reducing waste materials from the traditional manufacturing process.
Automobiles and automotive: for the automotive industry, recent developments in 3D printing has led to the creation of robust designs, lighter, safer and stronger products, reduced lead times and lowered costs. The use of 3D printing in this industry has now become essential as additive manufacturing applications are driving the adaptation and development of processes and technologies that meet the needs and constraints of this vastly evolving sector.
Though it started as a niche service, today, 3D printing promises several advantages few of which are reliability, precision, cost-efficiency, and simplicity. It is one of the most widely used additive manufacturing processes and its uses and benefits are not just limited to one industry. Today, it has the ability or transforms consumerism. As it empowers people to create their goods, customize offerings to the next level, there has been a significant shift in manufacturing in the industries that adopted this technology. This technology is here to stay, and it will be a commonplace as it continues to get refined in the years to come.