Are you looking for Independence Day gift ideas? Indian Independence Day commemorates the country's independence from British control and reflects on the sacrifices made by freedom fighters who battled for the country's independence. It is a day to honor the spirit of nationalism and to express gratitude to the country. This is the day when you can congratulate or appreciate your employees with Custom corporate gifts, Which is an excellent method to accomplish this.
Do you want to do something different to celebrate Independence Day at work? There is no need to look any further! This post will walk you through a slew of amazing Independence Day presents that will help you mark this wonderful event with style and pride.
From one-of-a-kind gifts to inventive gift ideas, we've compiled a list of 5 custom corporate gift ideas that will demonstrate your patriotism and make your workplace festivities genuinely unforgettable.
Consider new employee welcome gifts that reflect the spirit of Independence Day and build a sense of togetherness if you're welcoming corporate gifts for employees to your company. We also have presents for your technologically smart staff that combine their love of technology with a patriotic attitude.
And if you're searching for an affordable employee appreciation independence day gift to show your thanks for their hard work, we've got you covered.
Prepare to celebrate the 75th happy independence day in the most spectacular way imaginable. Dive into our selection of 5 excellent gifts to find the ultimate gifts for expressing patriotism, honoring the spirit of independence, and creating lasting memories.
Let's make this Independence Day at work one to remember!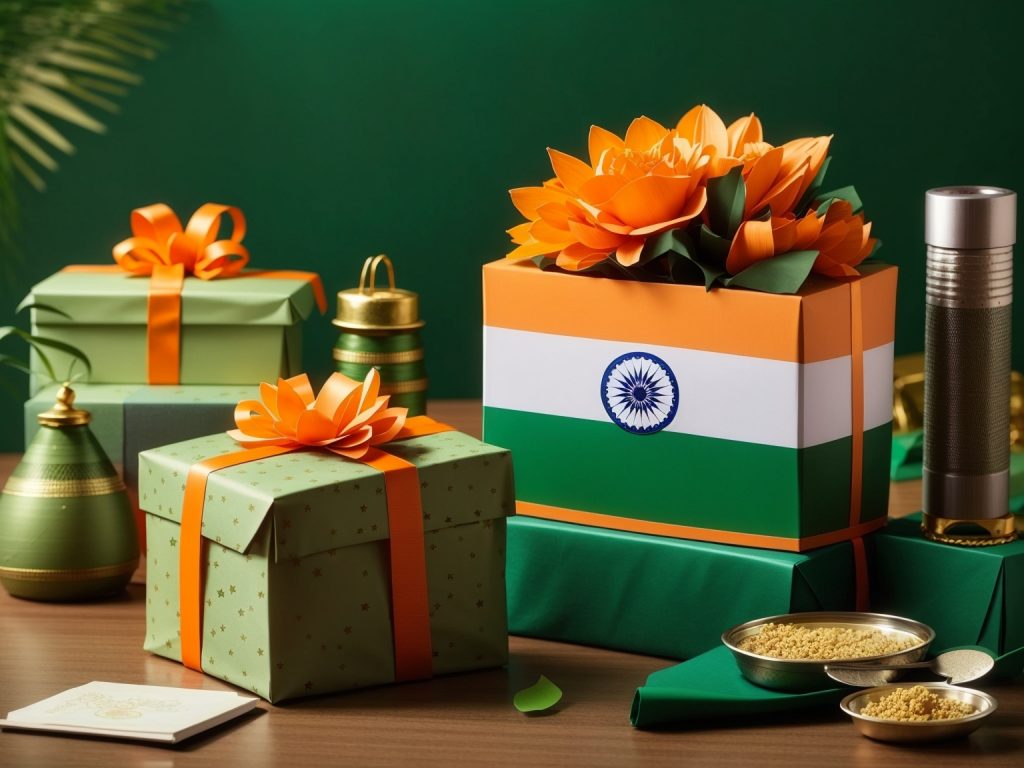 What is a professional gift?
Professional independence day gifts for employees are thoughtful and purposeful items given to someone in a business. It goes beyond a simple present, as it is carefully chosen to reflect professionalism, appreciation, and the recipient's interests or needs.
Professional gifts are commonly exchanged between colleagues, clients, partners, and employers to build and maintain positive relationships, acknowledge achievements, commemorate occasions, or express gratitude.
Characteristics of a Professional Gift:
Relevance: A professional gift should be relevant to the recipient's role, interests, or the context of the relationship. It shows that you've considered their preferences and needs.
Appropriateness: Custom corporate gifts should align with the business environment and the recipient's level of familiarity. They should not be overly personal or intimate, ensuring they maintain a respectful and appropriate tone.
Quality: The quality of the gift reflects the value you place on the relationship. High-quality items indicate sincerity and thoughtfulness, whereas cheap or generic items might convey a lack of effort.
Branding (if applicable): Corporate or brand-specific gifts may bear the logo or name of the company. This can help promote your business and remind the recipient of your partnership or collaboration.
Customization: Personalizing a professional gift, whether through engraving, monogramming, or tailoring it to the recipient's preferences, adds a layer of thoughtfulness and exclusivity.
Occasion: custom corporate gifts for employees can be given to mark specific occasions like work anniversaries, promotions, birthdays, holidays, or the successful completion of a project.
Patriotism is One Click Away: Elevate Corporate Gifts Online
Independence Day is a day when everyone comes together to honor the freedom fighters who battled for the country's liberty. A thousand thanks to those who gave their precious lives to make the dream of a free India a reality. Because 15th August is a national holiday, you may have plans to do something exciting and entertaining with your friends, family, or loved ones.
Plan something unusual this time! The day is of renowned national importance. You must greet your friends, relatives, or family members with exceptional Independence Day presents such as independence day t-shirt design, unique custom coffee mugs, metal badges, danglers, personalized hats, and many other unique items.
Independence Day gift is a moment of unity when the country comes together to celebrate the day with joy and applause. But what about the faraway one who lives thousands of kilometers away? Whether they live in India or overseas, you may make them all joyful and wonderful with Winni by sharing the joy of the event with distinctive and outstanding presents.
Each product is unique in its own way. All have the ability to make your loved ones happy and make the day unforgettable for them.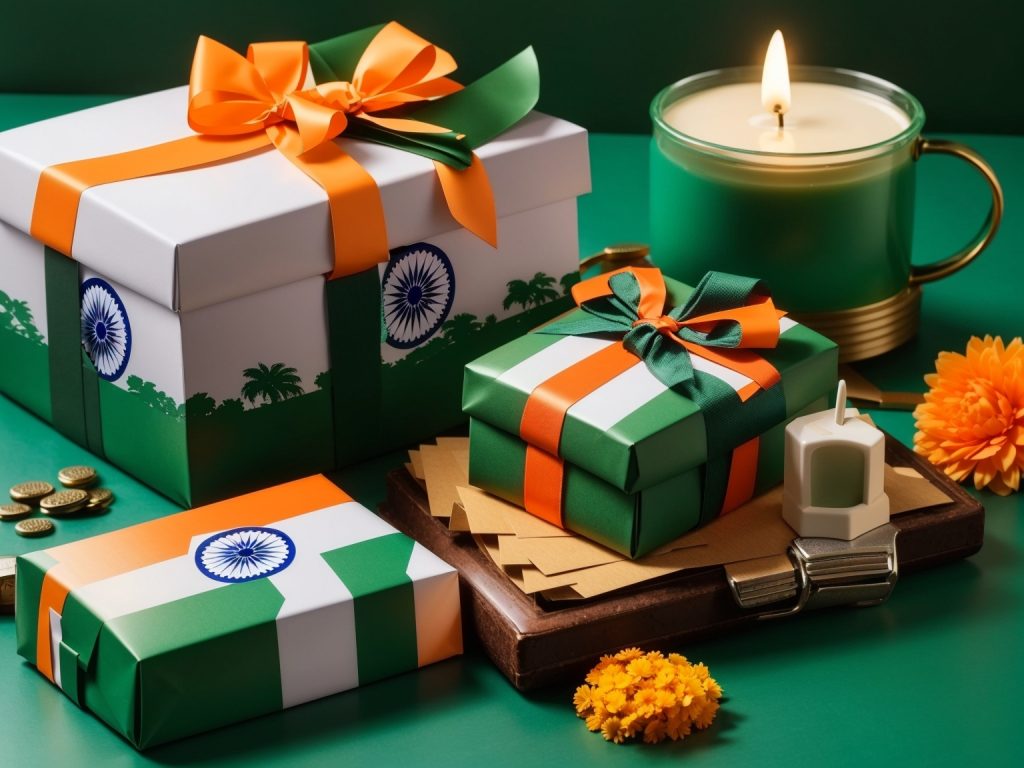 What should you give to impress employees?
Building a healthy culture in your firm starts with providing your staff with the love and appreciation they deserve. Offering presents to staff is a fun and humanizing approach that goes beyond conventional workplace benefits that express true appreciation.
It might be difficult to discern which present selections are appropriate for your employees. After all, there are several varieties. And wouldn't it be simpler just to hand out gift cards? Business giving is more of an art than a science, but you can always get some ideas from here.
As Independence Day approaches, it's time to show appreciation to your hardworking corporate employees who contribute tirelessly to your company's success. A thoughtful and well-chosen corporate gift item can express your gratitude and boost employee morale. We present the top 5 Independence Day gift ideas for corporate employees in 2023, each carefully curated to reflect the spirit of patriotism and recognition.
5 Custom Corporate Gift Ideas for Employees
Unique Custom Office Coffee Mug: Sip of Patriotism
Kickstart your employees' workdays with a dash of patriotism by gifting them Independence Day-themed custom office coffee mugs. These versatile and practical gifts can hold their favorite beverages while showcasing their love for the nation. Choose office coffee mugs adorned with artistic renditions of the flag, iconic landmarks, or motivational messages. Independence Day presents evoke powerful thoughts and emotions in us. On this day, when you individually personalize a present, make sure you're producing distinctive gifts for the receiver. 
By placing an outstanding message on a personalized coffee mug that the person would use on a regular basis, you connect with them indirectly through your messaging.
With every sip, your employees can embrace the spirit of unity and progress that Independence Day represents.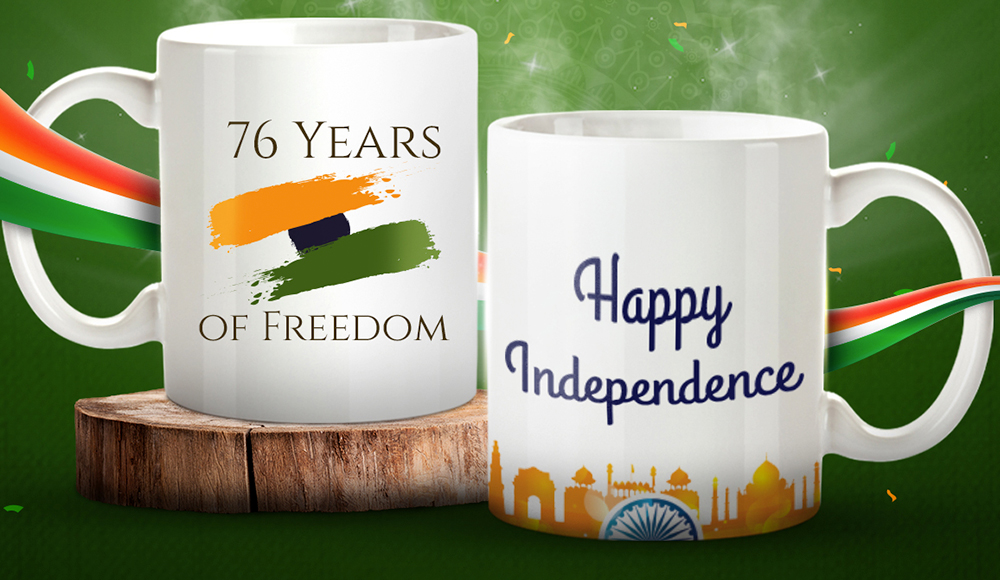 Custom Metal Badge: Commemorate with Elegance
A custom metal badge engraved with an Independence Day motif serves as a timeless keepsake for your corporate employees. These elegant badges can be customized with your company logo, the year, and a patriotic design that captures the essence of the day, making them perfect corporate gift items.
Flag design pins are a terrific way to demonstrate patriotism and make an inexpensive and useful corporate gift. They may be worn on both formal and casual occasions and serve as a continual reminder of the country's freedom, making them excellent corporate gift items. Employees can proudly pin them to their attire or display them on their desks, symbolizing their commitment to both their job and their country. Adorn your attire with a touch of patriotism using the exquisite Indian flag metal badge.
A metal badge is a sophisticated way to recognize your employees' dedication and loyalty, making it an ideal choice for corporate gift items. Present your youngster with a patriotic Independence Day gift ideas as soon as he leaves the house for school on August 15th. He would undoubtedly feel proud of his nation every time he wore it over his shirt, making it a meaningful corporate gift item.
There are several badges available on the market that will simplify your search for corporate gift items. He will eventually learn more about the sacrifices made for a free India. Adding more corporate gift items would also encourage the badge trend, which has faded in today's day.
Customized Caps: Wear Your Pride
Help your corporate employees shield themselves from the sun while wearing their pride on their heads. An Independence Day-themed cap is a trendy and functional gift that can be worn both inside and outside the office.
Choose online personalized caps that feature innovative designs, such as intricate flag patterns, emblematic national colors, or empowering slogans. Whenever your employees don these caps, they'll feel a sense of belonging and nationalistic fervor.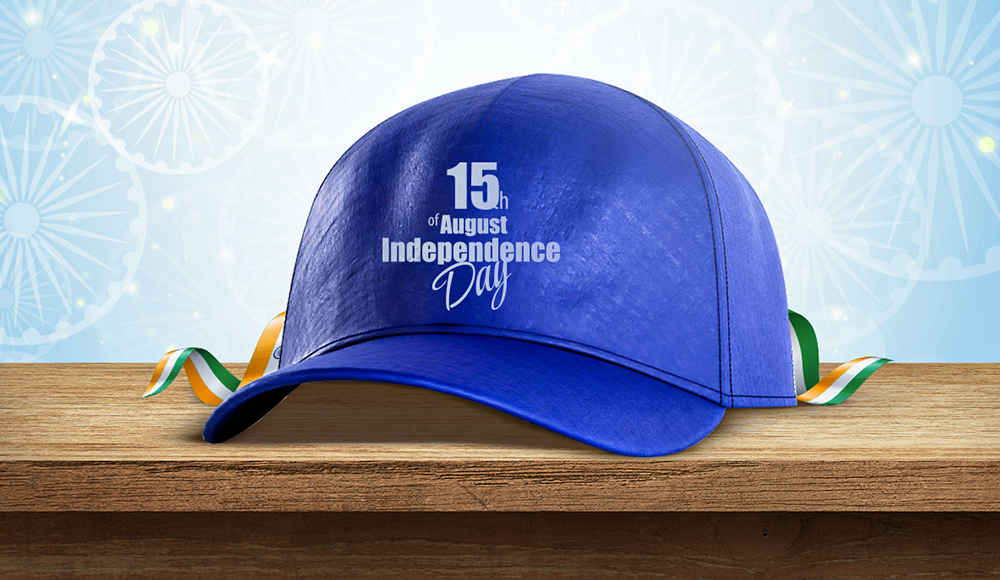 Customized Office Desk Calendar: Months of Inspiration
A desk calendar customized for Independence Day is a thoughtful and meaningful Independence Day gift ideas for your corporate employees. Each month, they can turn to a new page adorned with patriotic imagery, historical facts, and inspiring quotes. Such a calendar not only keeps them organized but also nurtures their sense of connection to the nation's journey. Every glance at the calendar becomes an opportunity to reflect on the values that Independence Day embodies. Stay organized and inspired throughout the year with our beautifully designed customized desk calendar for 2023.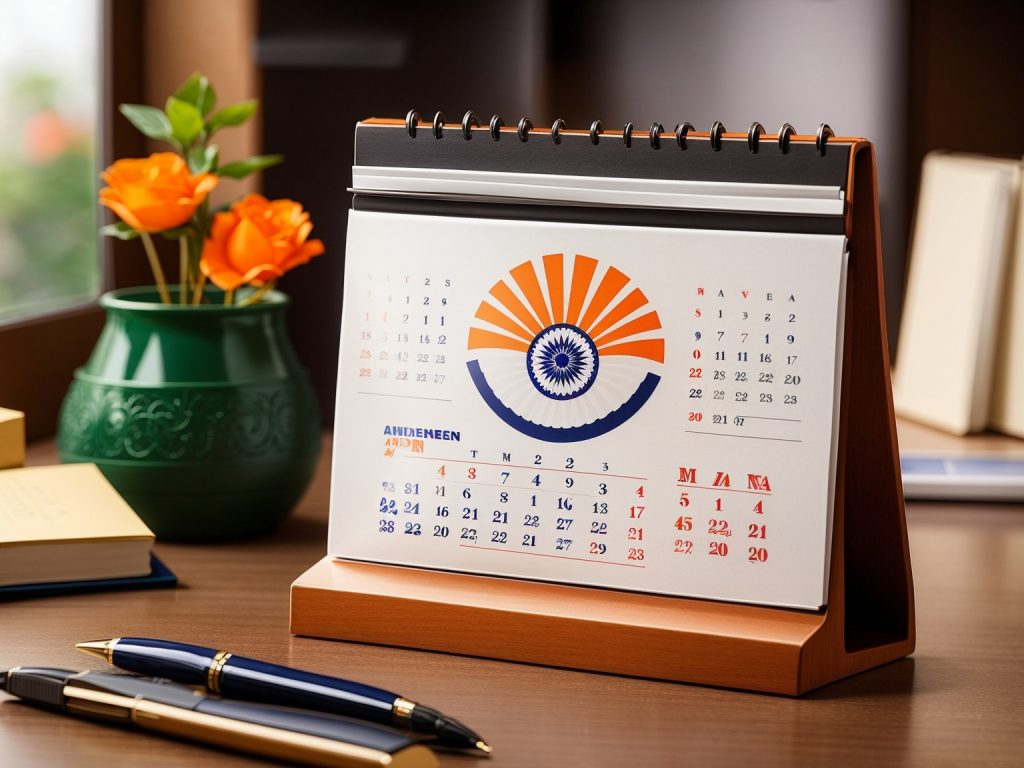 Custom Danglers printing: An Emblem of Freedom
Celebrate the essence of freedom with a beautifully crafted Independence Day-themed custom dangler. These ornamental pieces can adorn your employees' workspaces, serving as a constant reminder of the significance of the day. 
Opt for designs that incorporate the national flag, symbols of unity, or inspirational quotes that ignite a sense of patriotism. F not only enhance office decor but also create a visual link between work and national pride, making them an ideal Independence Day gift.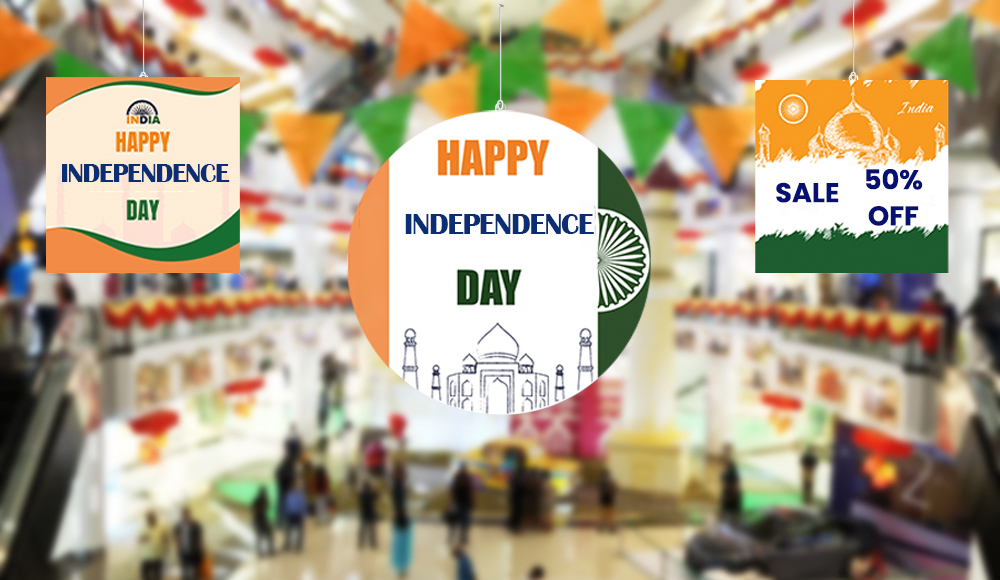 Conclusion
This independence day gifts for employees express your gratitude and honor the dedication of your corporate employees with these top 5 gift ideas. From danglers to coffee mugs, metal batches to caps, and desk calendars, printed mobile covers each gift is designed to evoke a sense of patriotism and unity. Independence Day is an excellent opportunity for businesses to express gratitude to their employees and consumers while also building relationships.
The aforementioned corporate gift ideas are a terrific method to accomplish this, and they can be tailored to the needs and tastes of different businesses. Companies may express their support for the country and establish relationships with their employees and customers by selecting patriotic, useful, and meaningful presents.
By selecting a thoughtful and personalized present from ARC Document Solutions India, you not only enhance employee morale but also forge a stronger bond between your staff and your organization. As your employees proudly showcase these Independence Day gifts, they will be reminded of their pivotal role in ARC Document Solutions' success and the nation's growth.
As we celebrate this Independence Day, let us reflect on the journey that brought us here and embrace the spirit of unity and freedom. Wishing you a joyful and Happy Independence Day! 🎉