Have you ever noticed exit signs or fire signs in workplaces, shopping malls, or construction sites? Well, safety signs and symbols are required in all places whether it is a workplace or a public place. These safety signages not only safeguard the lives and well-being of the workers but also establishes a professional image of the organization. They provide protection against hazards and risks in workplaces, especially in industrial on-sites where heavy machinery evolves for carrying out day-to-day operational activities.
Safety signs and symbols come in various shapes and sizes. No matter what type of commercial establishment it is, health and safety signs are always a priority that decreases the risk of injury and illness in a work environment. These are considered visual communication tools that effectively convey messages regarding accidental hazards, precautions, and emergency procedures.
Here, in this blog, you will come to know about 10 types of indoor and outdoor signages that are mostly found in workplaces and commercial establishments. Understanding these signs and their significance is vital for both employees and employers for maintaining a safe and healthy work culture and minimizing the risks of potential injuries and accidents.
Why indoor and outdoor signages are required for businesses?
Indoor and outdoor signages are essential for each business establishment as each type of signage serves multiple purposes. Whether it is about informing people about potential hazards, and accident-prone areas, or educating people to take necessary precautionary measures, they serve all these purposes efficiently. Besides these, these signs are designed in a way to create a positive impression and enhance brand visibility both inside and outside of the premises.
Take a look at 10 types of safety signs and symbols
1) Prohibition signs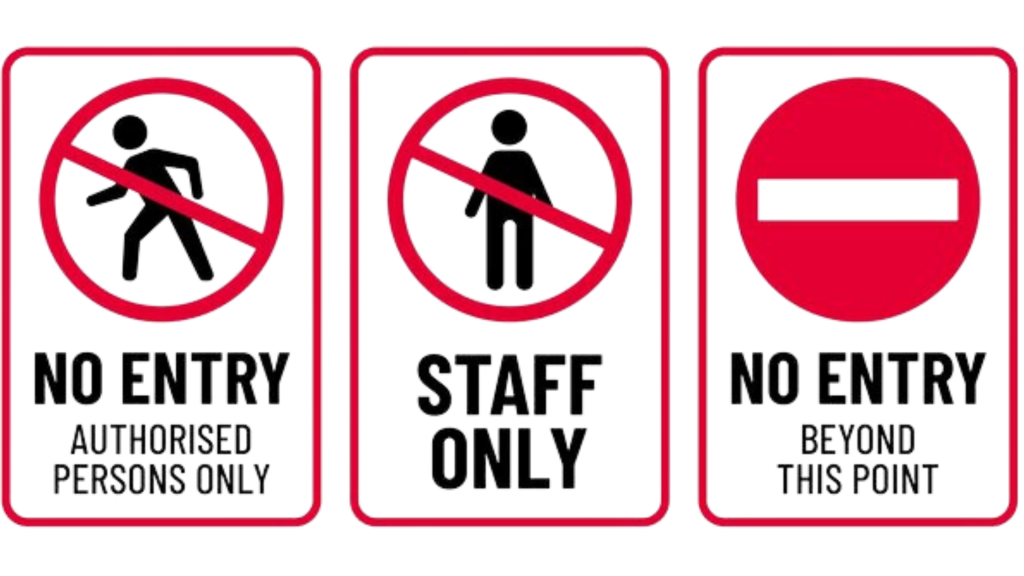 The prohibition sign features a red circle across a pictogram. This sign indicates actions or behaviors that are strictly prohibited. These signs play an important role in preventing accidents and maintaining a safe and secure working environment. They convey the message of what actions should be avoided that include smoking, unauthorized access, no entry , etc.
Prohibition signs help in eliminating potential hazards and comply with safety protocols ensuring that all employees and visitors are aware of the restricted activities that could cause accidents like hazardous incidents.
2) Warning signs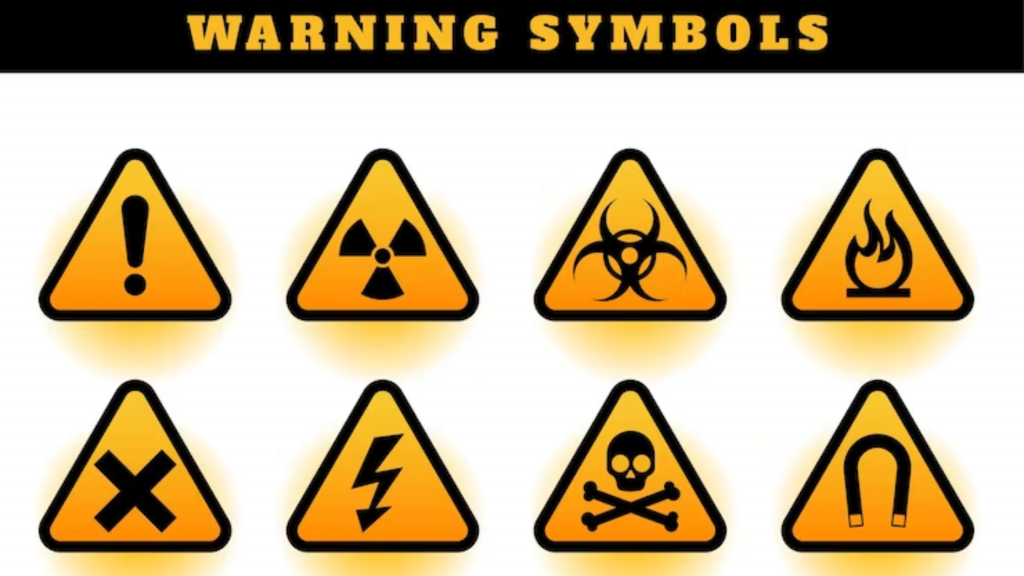 Another common yet important sign is a warning electrical sign. These signs have been designed to alert individuals of potential hazards that exist in specific areas. This specific sign includes black text, yellow background, and symbols for grabbing quick attention and prompt caution. Danger warning signs are important for preventing serious accidents that include high voltage, falling objects, slippery floors, etc. Through advance warning signs printing, people can take proper precautions.
3) Braille signs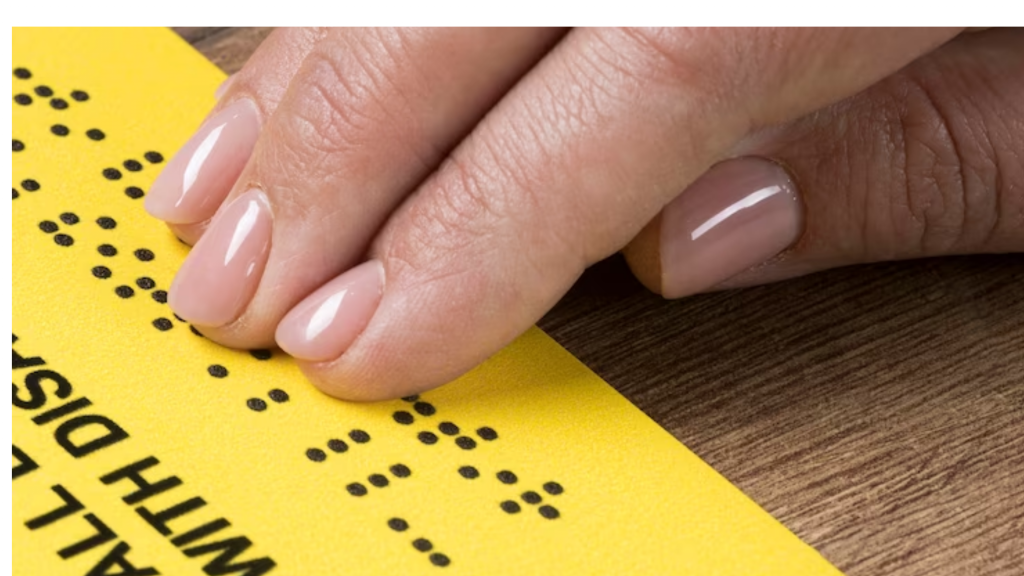 Braille signs are used for visually impaired people to read and understand the information. These are designed in a way that includes braille tactile characters. They are installed in various public and private places that promote accessibility and inclusivity. In braille signage, braille characters are placed below the printed text, enabling visually impaired individuals to understand the message by touch.
4) Emergency signs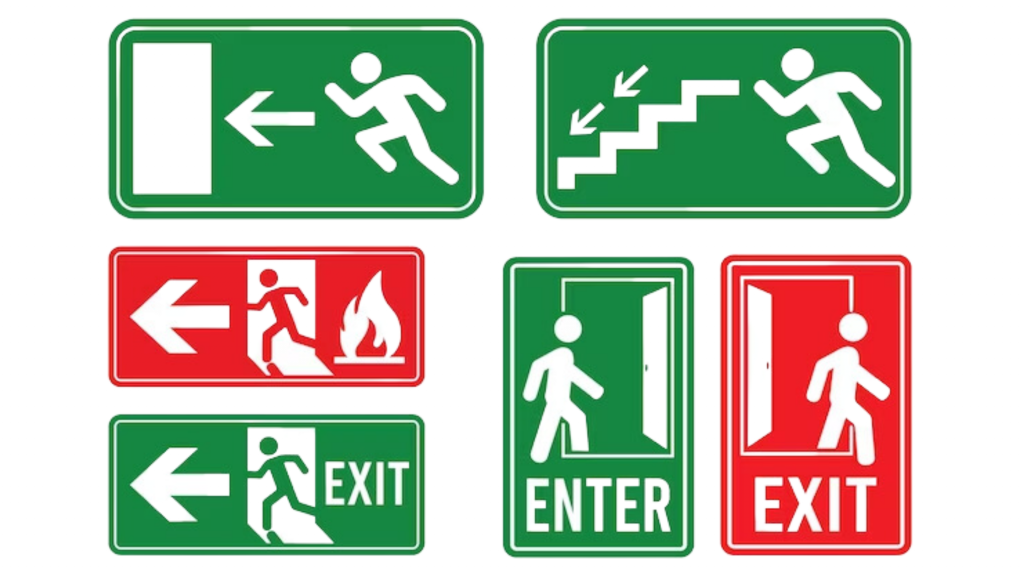 Emergency signs have been designed to convey a clear message or instructions during emergencies or critical situations. The design involves a green background with white color symbols or text that represents a quick attention-grabbing sign and easy understanding. These emergency signs include various things such as fire extinguishers, first aid stations, and assembly points. By guiding individuals, the signs facilitate prompt evacuation and response that potentially save lives during emergencies and crises.
5) Hazard signs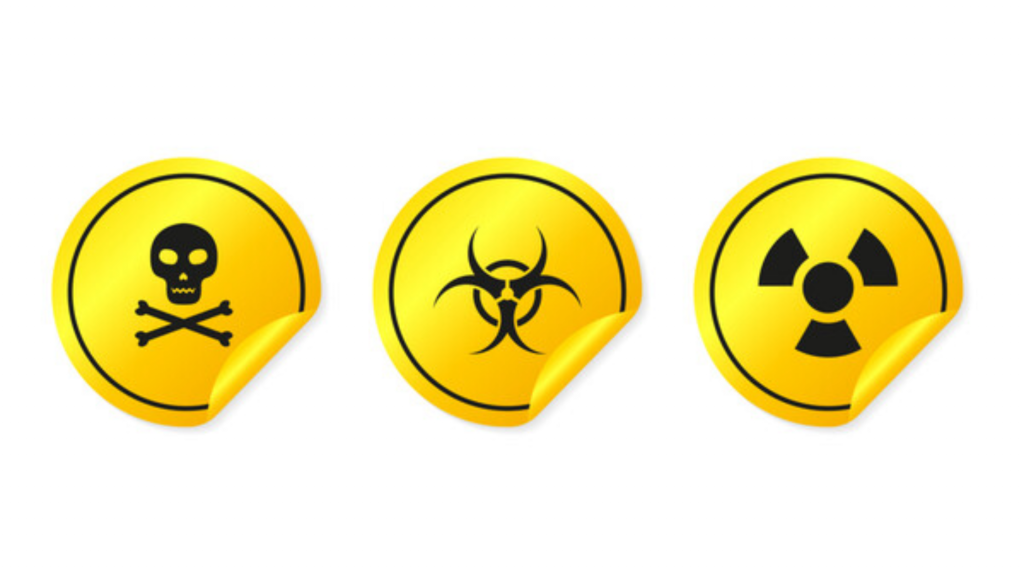 Hazardous signs are used in communicating and identifying specific hazards and risks in the workplace. The design represents black text, a yellow background that indicates various types of risks such as radiation, chemical hazards, biohazards, electrical dangers, etc. These signs provide information about potential risks along with appropriate precautions that should be taken in case of any critical situation to protect themselves from any accident or risk.
6) Fire safety signs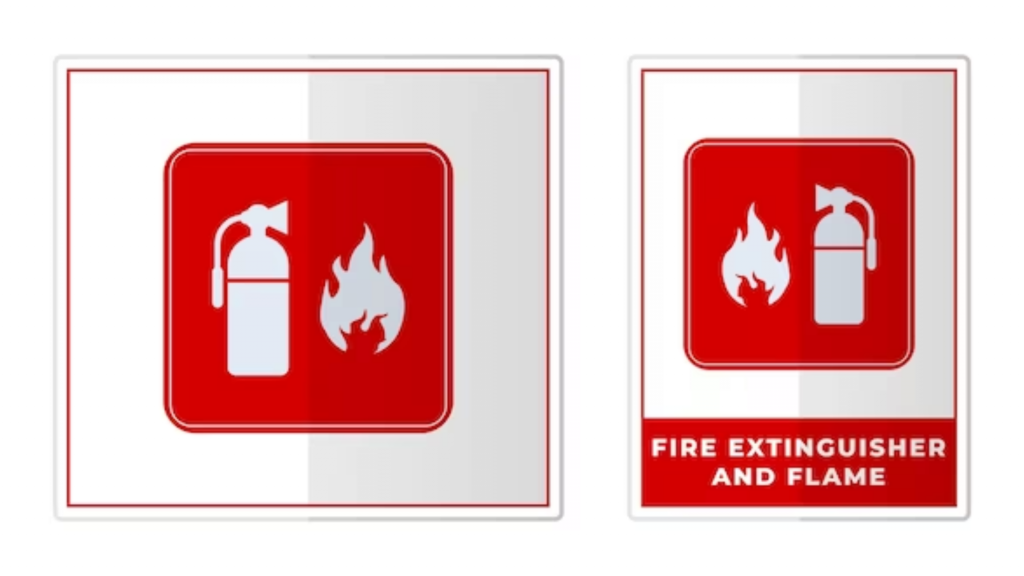 Fire safety signs play an important role in all types of commercial buildings and construction sites. It ensures effective response in case of fire accidents. The design of the sign includes a red background with white text and symbols that convey an important message in respect of fire safety. Fire safety signs are used in various forms such as fire extinguishers, fire alarms, fire exits, and firefighting equipment. By displaying the signs, employers can ensure the safety of their employees and visitors and minimize the risks of potential harm or damage.
7) Road safety signs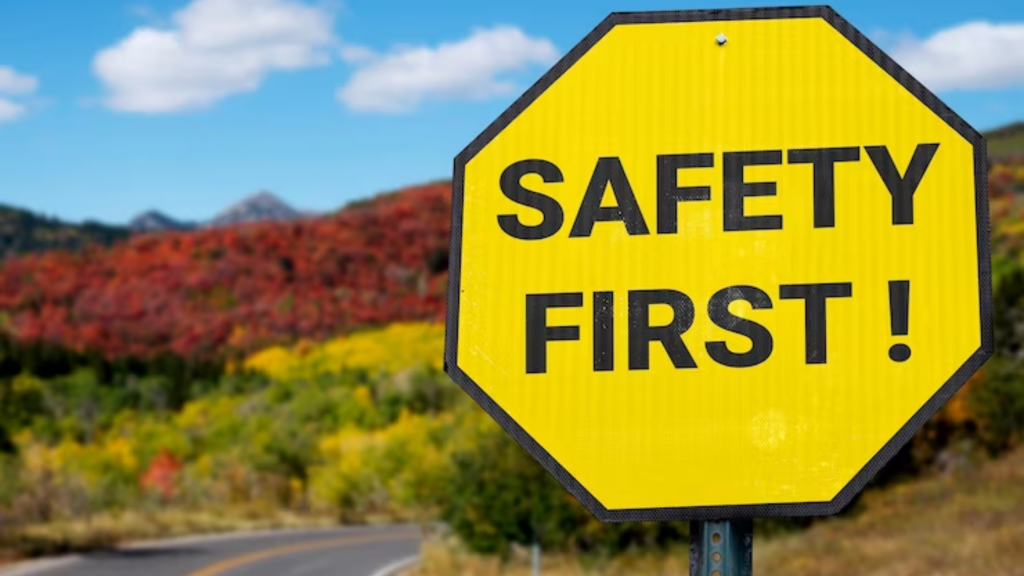 Road safety signs are crucial tools to convey important instructions or messages to people including pedestrians, road users, and cyclists. These signs have been designed in increasing road safety by offering clear and concise information about traffic regulations, potential hazards, and guidance. There are different types of road safety signboards are used to prevent accident-prone situations that include stop signs, speed limit signs, no entry signs, one-way signs, pedestrian crossing signs, traffic signal ahead signs, and so on.
8) Construction signs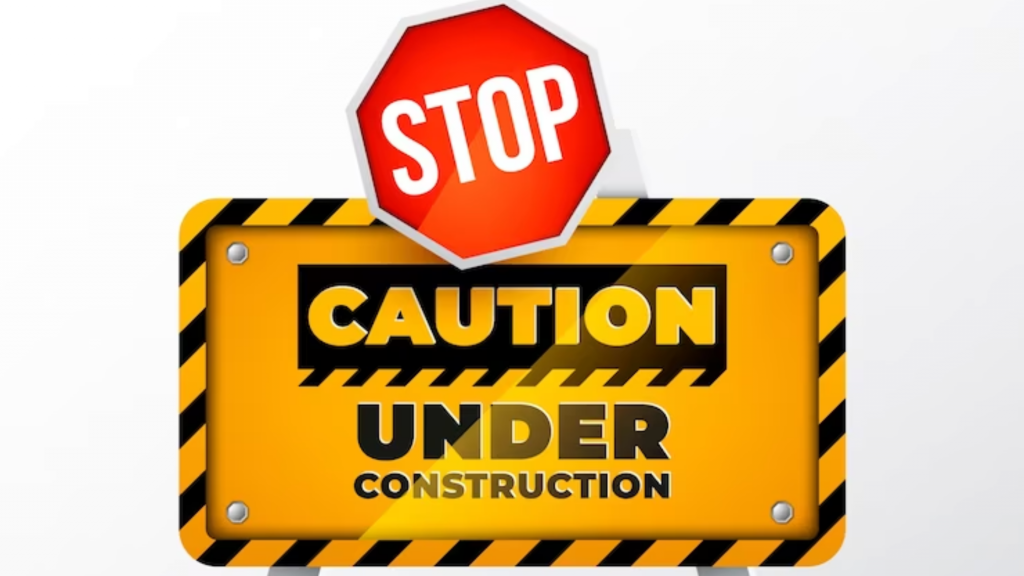 In every construction site, installing these signs are must. It provides protection to people against potential risks and hazards. These signs are designed with a combination of bright colors, safety symbols, and bold text. In every construction site, the commercial contractors are subjected to comply with the safety protocols and to ensure that they install construction signs across the ongoing construction sites. It helps workers and visitors to take necessary measures to prevent serious accidents or injuries.
9) Safety awareness signs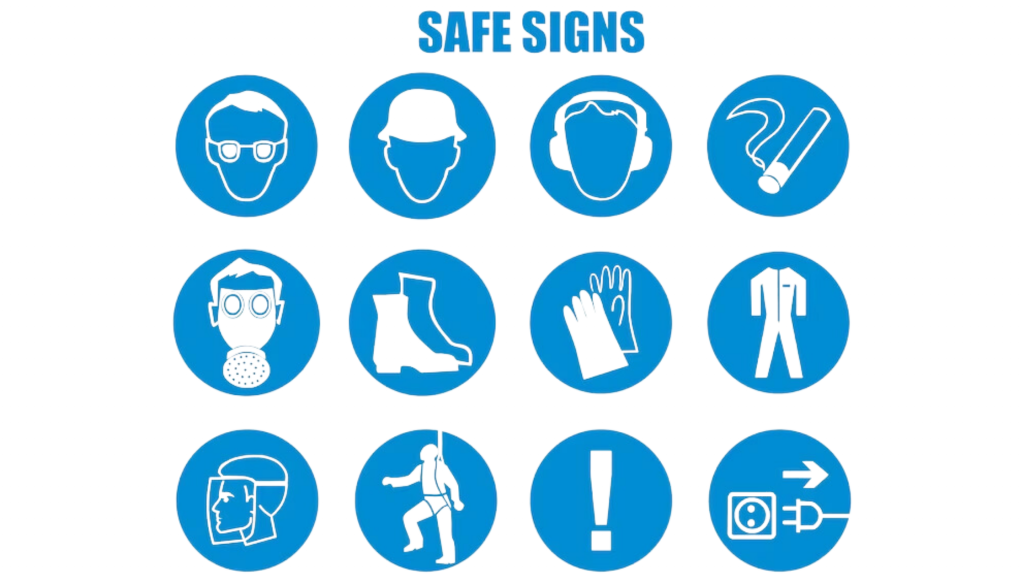 Safety signs and images are used in establishing a culture of safety and this helps in promoting general awareness among visitors and employees. These signs feature general safety slogans, motivational messages, and safe practices. They contribute to establishing a positive atmosphere, encouraging people to remain vigilant.
10) Commercial floor signs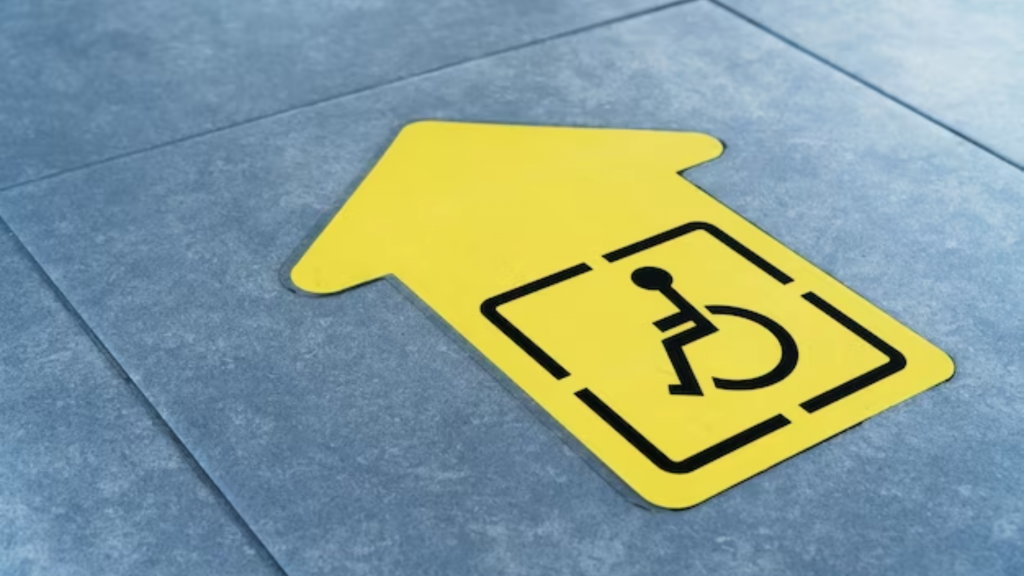 Commercial floor signs are used in different industries for conveying safety messages, guiding instructions, and informing people of potential hazards. These signs are designed in a way to place them on the floor with vibrant colors and designs that instantly communicate with customers, visitors, and employees. These signs are mostly used in airports, railway stations, metro stations commercial complexes, and so on.
Where to find a professional signage printing company?
To find a reputed and professional signage printing company, you don't need to go further as ARC Document Solutions India is here to cater to varied requirements. Being a leader in the printing industry, ARC India offers a wide variety of signage printing solutions that include safety signs and symbols, safety symbols with names, safety sign boards, warning signs, road safety signs, etc. No matter how big or small your printing requirements are, ARC is backed by an efficient team of professionals and state-of-the-art printing equipment that can generate high-volume printing products without compromising on quality. To place your order for signage printing, visit ARC Documents Solutions India. We strive hard to stand up to your expectation with quality products and on-time delivery.